How to Add a Broker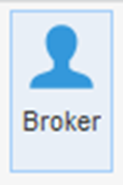 Select the "Broker" prompt from the Apps bar. (see image on the right)
This will open the Add Broker pop up.
Press the '+' button to bring up the add broker form.
Fill in the form as required, pressing "OK" to save your changes.
The new portfolio will now be added to your database.