This is the tab where you will be outlining the summary of your company's strategy, and the strategic goals.
This section of the plan starts out by requesting that you input some basic information, before having you outline your current strategic goals and the tasks which will allow you to achieve these goals. In doing so, you have begun adding accountability to your plan which will ensure that the implementation process is as straightforward as possible.
This section itself has 2 Tabs:
Strategic Summary
This section will have a few strategic areas in which you will have to clarify your company's position, such as Product Strategy, and Influencer Strategy. This section is very straightforward if you have already completed the previous sections of the plan.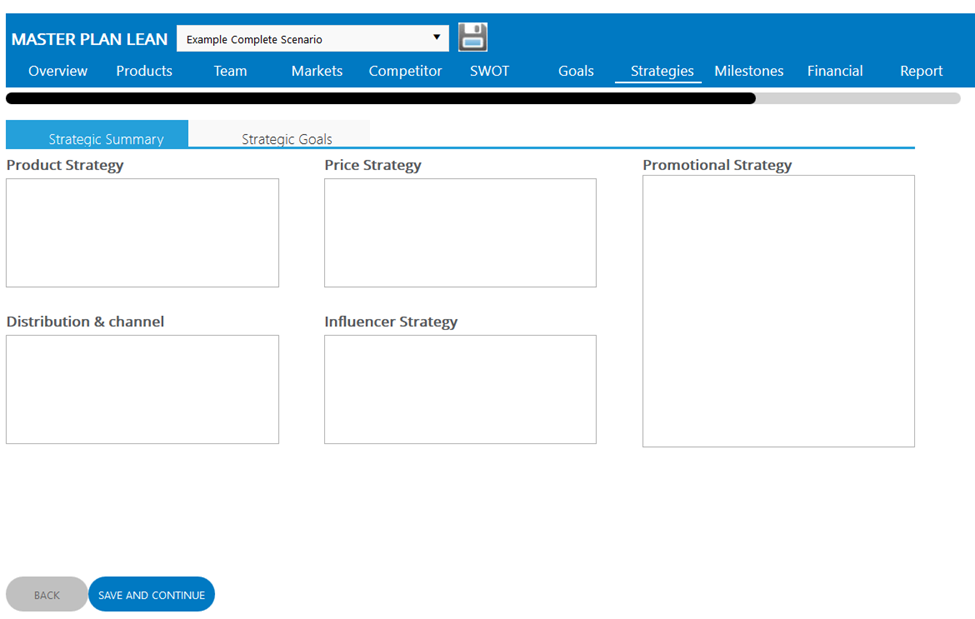 Strategic Goals
This tab is one of the driving features within Masterplan Lean, as it will allow you to piece together the different strategic goals, and the tasks that will be required to achieve these goals. You will first want to input your goals into the plan via first selecting the appropriate goal type via the "View Goal" drop down box, and then enter the specific goals for this section of the business

Once you have input your Goals, you can then add actions via the "New Action" prompt
Actions created with this prompt will request you to input data into a number of fields, but the fields with the * are the only required fields. This system will also allow you to attach the task to a particular user within your account via the prompt next to the "Accountable user" field, and can also utilize the prompt to add a new employee into the system if necessary. After building out this section you will have a succinct breakdown of your ongoing goals, and how you are going to achieve them.
FAQs:
Is there a Limit to the amount of text I can input into the boxes in the Strategic Summary Tab section?
Yes, as the plan produced is intended to be as "Lean" as possible. Each field is uniquely limited to provide the best possible output in your final Plan.
Do the "Tasks" within "Strategic Goals" appear elsewhere within the system?
Yes, if you have access to the "Milestones & Projects" module, all of these tasks will map over to this module